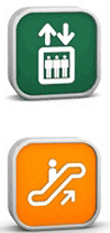 Morin Consulting & Associates is a consulting firm specializing in vertical and horizontal transportation systems. The firm expertise includes elevators, escalators, freight elevators, travelators, funiculars, mine elevators skip hoists, manlifts and platform lifts.

Our firm works in complete independence and therefore offers advice and support geared towards the best interest of building owners and managers.
Areas of activity: • Commercial Buildings • Residential Buildings • Shopping Centers • Hospitals • Government Buildings • Industrial.
Our clients: • Owners • Architects • Engineers • Managers • Buildings managers